It took us from about 11:00 am until 5:30 pm to cover the 20 miles around the island on the bikes we rented from "Adventure Rentals." Granted we stopped for lunch and for interesting photo opportunities yet it was "slow go" on the bikes which did not have enough power to get up the hills of the back roads. We included this route since this is where the real island life exists. We saw Taro fields (a root crop), many goats grazing, large pigs and sows rolling in mud or attached to ropes squealing, cows meandering, a plethora of palm trees with coconuts, and modest homes painted in colors which often require sunglasses. Large dogs are prevalent either napping or in some cases, chasing bicycles!
Jim's bike spokes actually exploded and being as crafty as he is, he found an old balloon and tied them together which allowed him to make it back to our bungalow! Well, we did rent from a place called,"Adventure Bike Rentals."
We biked around the entire island - 20 miles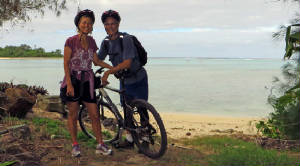 Jim's MacGyver fix when 3 spokes broke. He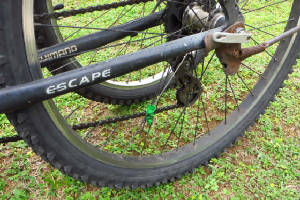 found an old ballon to tie them together. It worked!
We learned that a large, luxury resort had been under construction funded primarily by an Italian group. Unfortunately in 2004 these Italians were busted for being in the mafia and locked away. So 10 years later only the shell of it remains. We noticed many sheep and goats running in and out of the open rooms so at least this "resort" has some use.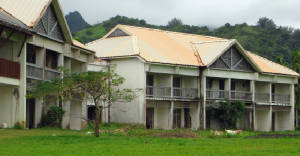 Passion Fruit is so delicious!
We experienced a Polynesian show at the Cultural Center where they had an example of an authentic village. We saw many demonstrations including a ceremonial offering to the "King" who then approved it for the "Gods" with many Maorian words shouted into the hillside. Aside from exceptional Polynesian dancing and drumming, we feasted on a buffet which included umu cooking. This is when the food is cooked in an underground oven which is dug out in the dirt with food wrapped around banana leaves and placed around hot coals and wood. Then big leaves are piled on top (banana leaves) and the food is baked for about 3-4 hours. Food also included Taro leaves (like Spinach), fish in coconut cream sauce, sushi/sashimi, Casava (another root vegetable which is so delicious). They told the story of how the Cook Islanders converted from Cannibalism to Christianity and how it showed up in the changes to their dancing and music. We were glad that they no longer practiced cannibalism as we might have been the dinner!
As it turned out one of the dancers also worked at Adventure Bike Rentals!